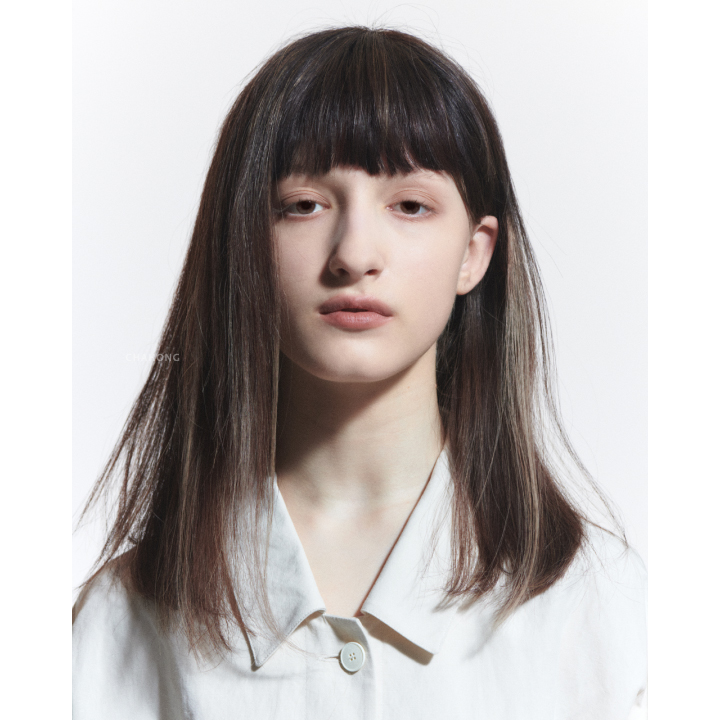 FLOWER(VER.02) CUT는 Go-dia section을 사용하고, Side 부분을 Guide-line으로 설정하여 약간의 Round perimeter를 디자인하는 Long hair style이다.
Perpendicular distribution, In line으로 살짝 가파른 Forward perimeter를 형성한 후 High crown point 부분에 Channeling 하여 Movement를 형성한다.
무거운 Round Bang에 Channeling으로 Texture를 더한다.
본 영상에서는 한국어, 영어, 중국어 자막을 통하여 자세한 설명을 지원하고 있습니다.
FLOWER_VER.02 is long hair style designed with a bit round Perimeter by partitioning in Go-dia Section and using Side as a guideline.
It designs Movement by Channeling on high crown point after forming a bit steep Forward Perimeter with Perpendicular Distribution and In line.
Channeling adds texture to heavy round Bang.
This video supports detailed explanation through Korean, English, and Chinese subtitles.
用Go-dia Section划分区域,以Side作为Guide Line,设计出稍微 Round Perimeter的长发造型。
以Perpendicular Distribution、In line形成稍微陡峭的Forward Perimeter后,在high crown point部分使用Channel,设计Movement线。
在厚重的 Round Bang上以Channeling增加质感。
该视频支持通过韩语,英语,中文字幕进行详细说明。